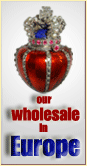 Classic Style / Vintage Style: Timeless jewelry from classical antiquity to modern age.
SILVER JEWELRY
Classic Style & Vintage Style
Fine 925 Sterling Silver with Enamel, Marcasite, Gemstones, Semi-Precious Stones, Pearls or Coral
To enlarge the pictures just touch them!

001 925 Sterling Silver Jewelry
Decorative Egg, Pendant
Classic Style
Seedpearls, Enamel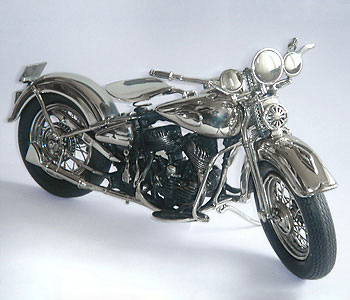 002 Fine 925 Sterling Silver
Motorcycle
Vintage Style
approx. 700g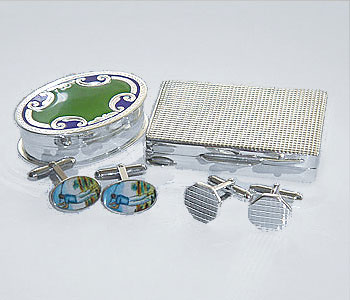 003 Fine 925 Sterling Silver
Pillboxes, Cufflinks
Vintage Style / Classic Style
Enamel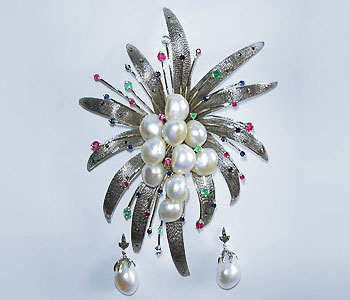 004 925 Sterling Silver Jewelry
Brooch, Earrings
Vintage Style
Pearls, Ruby, Sapphire, Emerald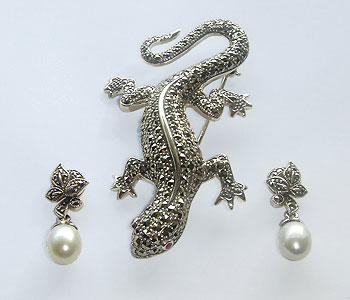 005 925 Sterling Silver Jewelry
Brooch, Earrings
Lizard, Classic Style
Marcasite and Pearls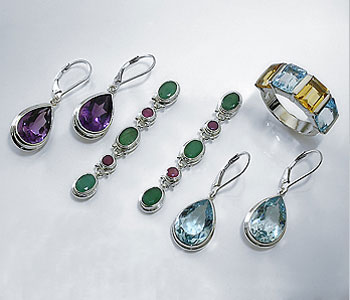 006 925 Sterling Silver Jewelry
Ring, Earrings
Classic Style
Amethyst, Ruby, Emerald, Topaz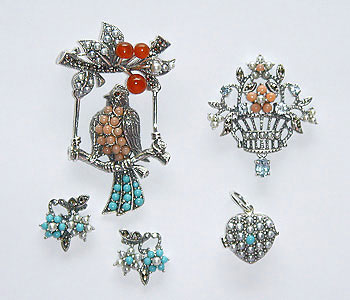 007 925 Sterling Silver Jewelry
Brooch, Locket, Earrings
Classic Style
Seedpearls, Turquoise, Coral, Marcasite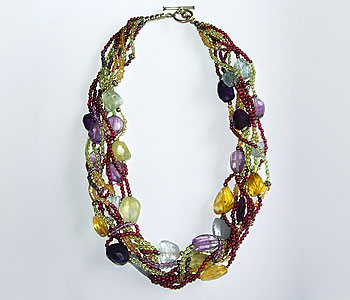 008 925 Sterling Silver Jewelry
Stone / Bead Necklace
Semi-Precious Stones
e.g. Amethyst, Citrin, Garnet, Topaz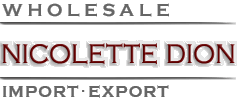 Fine Silver Jewelry Wholesale
in Antique & Classic Styles
Nicolette Dion
6212 Aura Ave
Tarzana, CA 91335
Phone +1 (818) 881- 0945
www.silver-dion.com

Our wholesale in Europe:
Please visit: www.silver-groth.com

Huge stock with new arrivals refreshed frequently!
Workmanship & Components

Fine Jewelry in 925 Sterling Silver,
of superior quality, designed and manufactured in Classic & Vintage Style. Set with gemstones, semi-precious stones, natural pearls, coral and marcasite.

Marcasite: 925 Sterling Silver Jewelry in Classic & Vintage Style is set with "Swiss Marcasite", fixed with prongs. (No Glue)

Natural Pearls: Carefully selected, perfectly round, cultured pearls/seedpearls Ø 1.3-2mm. Each pearl is secured with prongs, half-way drilled, pinned and additional fixed with adhesive.

Gemstones/Semi-Precious Stones:
All Jewelry is set with real, natural gemstones (ruby, emerald, sapphire, tourmaline, aquamarine, coral, opal) and real, natural semi-precious stones (amethyst, citrin, garnet, turquoise, peridot, onyx).
Our stock consists in part of unique objects or pieces only produced in small quantities. Therefore, no printed catalogue is available, as our merchandise is subject to continual updating.

Our sale is limited to traders only, excl. of sales tax.
Further inquiry will be processed, provided that you give us your company's name and address in full by e-mail only.
According to agreement, sale or examination of the merchandise may also take place at your premises.